FamilyFun Magazine has some fun, good-for-you snack recipes for kids that are perfect for Easter and Springtime! They can also be found in the April issue.
Here are the recipes, courtesy of FamilyFun: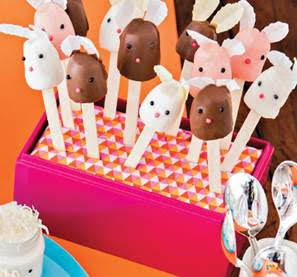 BANANA BUNNY POPS
Kids will be hopping in line to get these banana popsicles!
Directions: For each pop, cut two 1-inch long skinny ovals from the ribs of a cupcake liner; crease the middle to make the ears. Cut a banana into 2-inch pieces. Push an ice-pop stick into each piece; freeze for 5 minutes. Pour candy melts into a bowl and microwave per package instructions until smooth (if it's lumpy, stir in about ¼ tsp. of vegetable shortening); let cool slightly. Remove pops from the freezer and dip into the candy. Let the excess drip off and place on a wax paper–covered cookie sheet. Add jumbo nonpareils for the eyes and nose. Slide the ears behind the head and chill in the fridge until ready to serve. To present upright, press each stick into a piece of fabric-covered flower foam (make holes first).
*Fun tip: Candy melts come in many different colors. Feel free to add some whimsy to your table while you're at it! On the other hand, if you'd like a more realistic brown rabbit, organic dark chocolate can be used instead.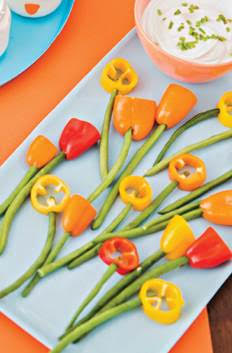 VEGGIE FLOWERS
Fruit is usually an easier sell to picky kids than vegetables, but any kid will be drawn in by these fresh from the garden flowers!
Directions: For tulips, cut the tops off mini sweet peppers; for daisies, cut the mini pepper into ½-inch wide rings. Remove the seeds and use the knife to make a small hole in the bottom of the tulip or on one side of the ring. Insert string beans into holes, and serve with your favorite dip.
*Fun tip: Lure those bunnies in with mini carrots that look like full-sized carrots! Poke a hole in one end of the mini carrot and add a celery leaf to the top before tucking it into the "ground" next to the veggie flowers.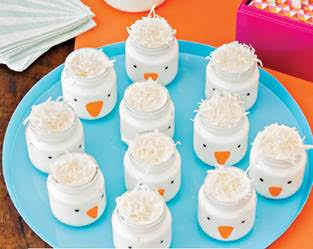 YOGURT CHICKS
Especially if you already have little jars in your house waiting for a project, this can be a simple, nutritional, and adorable treat for the kids.
Directions: Use paint pens to draw eyes and a beak onto small, cleaned glass jars (like baby food jars); let dry. Fill the jars with your favorite yogurt, then top with shredded coconut (because all chicks should be fuzzy).
*Fun tip: Blend brightly colored fruits into the yogurt to give your chicks a variety of colors: strawberry for pink, blackberry for purple, mango for orange, and so on! Why should marshmallows get all the fun?
GRAPE WORMS
Spring isn't just about butterflies! Make these squirmy worms, and regular grapes will add some wiggle to your snack table.
Directions: Use standard sized wooden skewers (cut in half if too long for smaller children). Skewer green or red grapes until full to both ends.
*Fun tip: Don't always poke them right through the center! Alternating higher or lower through the grape will give it a "wiggly" look.